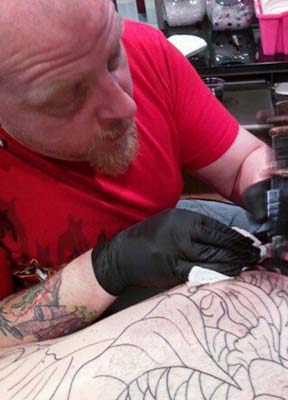 Aran Campas
-
View Tattoo Gallery
-
Email Artist
I own and tattoo at Anatomic Body Arts located at 330 East 5th Street in Bloomsburg PA.
In 1998 I got my first apprenticeship offer, but it was at a point in my life that I didn't have the money nor the time to take advantage of the offer. I spent the next 10 years moving around and doing whatever I needed to do in order to support my family. In 2007 I was once again offered an apprenticeship, but at the time my wife and I had a concert venue which made it impossible to do once again. I told a friend who was an amazing artist about the opening and he jumped at the opportunity. In December of 2007 we had to close the venue and I was constantly kicking myself for not taking the opportunity I had been offered. I made the decision that no matter how I had to do it, I was going to be a tattooer. I spent the next year and a half absorbing as much knowlege as I could, both directly and indirectly. In June of 2009, at which time I was working in the ER at local Hospital, I was given the opportunity to cover 2 days at Stormi Steel in Kingston PA while the artists were on vacation. The first day was a little disheartening, with no tattoos. The second day, I got 2 walk-ins which lead to one of the client's friends wanting to book an appointment for later in the week. The next thing I knew, I was tattooing full-time in addition to still working at the hospital. In August, I made the decision that I would put everything I had into tattooing and quit my job at the hospital. In November 2009 I moved to the new Stormi Steel location in Bloomsburg PA, where I worked until Jan 31st 2013.
February 1st 2013, I opened my own studio named Anatomic Body Arts in Bloomsburg PA.
Every day, I feel honored that so many people put their faith in me to tattoo them, their family and friends.